iSpyETF
The April 22 Profit Radar Report showed this chart of the Nasdaq-100 and stated:
"There are similarities between AAPL and the Nasdaq-100, which is forming a potential bull flag. A break above 4,465 – 4,485 (corresponding level for QQQ = 109.10) could drive the Nasdaq-100 to next resistance around 4,600. Aggressive investors may buy QQQ with a break above 109.10."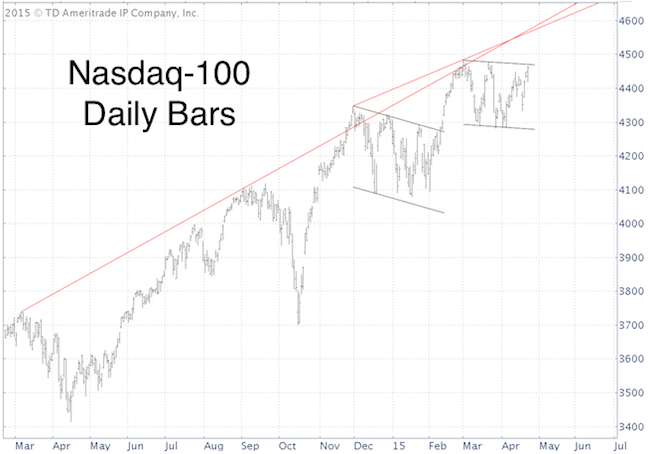 The bullish breakout materialized, but how legitimate is it?
Below is an update chart of the Nasdaq QQQ ETF.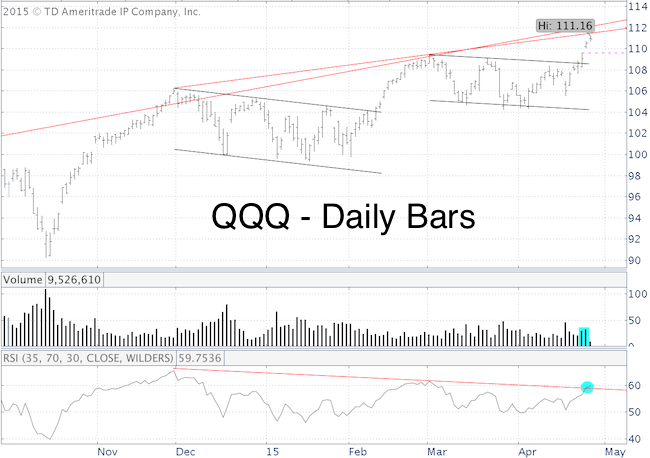 The breakout occurred on elevated volume. Bullish.
There's on open chart gap at 109.55, which will probably get filled.
There's a long-term bearish RSI divergence. Potentially bearish.
RSI may be about to close above trend line resistance. Potentially bullish.
Next resistance at 111.50 – 112.20.
Ideal bull flag target is around 112.50.
The trend is up, but lagging breadth and the open chart gap suggest an eventual…
View original post 121 mots de plus