iSpyETF
Assuming this hasn't put you asleep, you know that the Dow Jones (NYSEArca: DIA) has been taking a giant dirt nap.
In fact, by one measure, it's the longest dirt nap since 1910, and soon to be the longest ever.
The Dow Jones has not recorded a 1-month high or low (based on closing prices) for 42 days.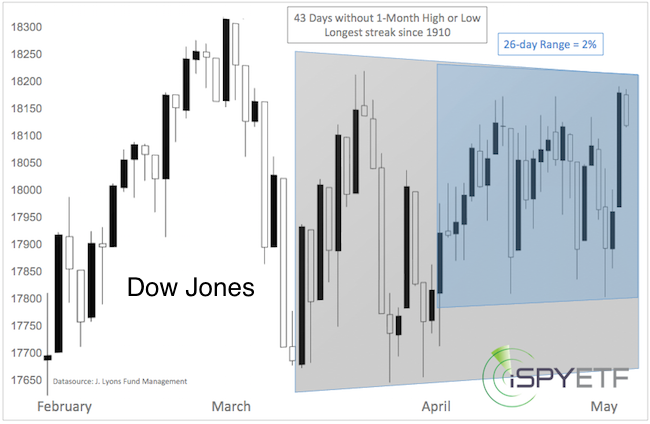 According to Lyons Fund Management, the longest such stretch dates back to 1910 and lasted 45 days.
In itself, this is remarkable, but the next stat makes it even more remarkable.
For the past 26 trading days, the Dow has been stuck in a 2% trading range (based on closing prices). This is one of the tightest ranges of the last 25 years, and the tightest range without a new 1-month high or low ever.
If you read the Profit Radar Report, this range comes as no big surprise. Back on March…
View original post 134 mots de plus